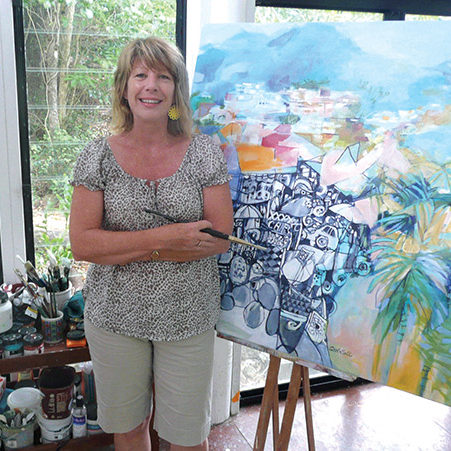 Carol Bell – Hothouse Art
Born in Brisbane, Carol grew up influenced by her artist & art teacher mother.  She studied Art at QUT, and under artist tutor David Fowler.  Seeking lifestyle, Carol moved to the Whitsundays. After retiring from business in the legal profession, she joined Art Whitsunday and exhibited at their annual exhibition, winning a 1st prize and selling all entries.  Carol's first one month solo exhibition at the Whitsunday Art Gallery began with an almost sell-out opening night.  When boating and travelling, Carol uses watercolours, pen, ink and sketches. Most of her large paintings are semi-abstract, semi-impressionist acrylics on canvas using vibrant colours, passionate creations full of feeling.  Carol's works now hang in homes and offices in the Whitsundays, Townsville, Brisbane, Gold Coast, Adelaide and Sydney.
Artist Statement
My inspiration is my backyard and living in the Whitsundays allows me to paint the brilliant colour and movement of the tropics.  My motto is 'be true to oneself' which means I can paint exactly what inspires me using techniques that I like and are comfortable with.  I allow time to experiment which constantly changes the direction of my artwork.